Printed/Published Work
Korean(한국어)
중앙역
About the Original Works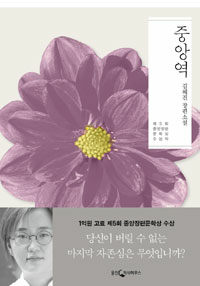 Book cover provided by :
Aladin
Original Title

중앙역

Title Romanization

Jungangyeok

Title Sub

김혜진 장편소설

English Title

Central Station

Classification

literature > Korean Literature > Korean Fiction > 21st century

Author

Co-Author

-

Published Year

2014

Publisher

웅진출판

ISBN

9788901165059

Anthology

-

The Series

한빛문고; 006

Main Characters

-

Subject/Theme

Marginalized individuals
A young man enters a plaza by the station and joins the ranks of the homeless community. He only despairs of the slow passage of time. An old, sick woman falls asleep in his arms. The next day, he discovers his carrier, which held all of his belongings, is gone. Some time later, he meets the woman again.
Descriptions - 2 Languages
Korean(한국어)
English(English)
2014년에 출간된 김혜진의 장편소설이다. 사회로부터 소외되고 아무 것도 가진 것 없는 두 남녀의 사랑을 다루고 있다. 과거와 미래에 대한 관심을 끊고 오직 현재에만 몰입함으로써 신체가 느끼는 감각과 감정을 극도로 발전시키고 있다는 평가를 받는다.
Published in 2014, Central Station by Kim Hye-jin deals with the love between a man and woman, both of whom are alienated from society and possess nothing. By removing all references to the past and present and focusing entirely on the present day, the novel gives a heightened description of the body's emotions and sensations.
Translated Books2