Printed/Published Work
Korean(한국어)
알려지지 않은 밤과 하루
About the Original Works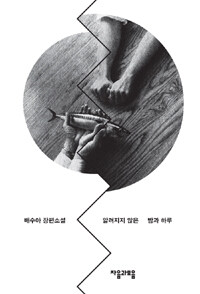 Book cover provided by :
Aladin
Original Title

알려지지 않은 밤과 하루

Title Romanization

Allyeojiji aneun bamgwa haru

Title Sub

배수아 장편소설

English Title

Untold Night and Day

Classification

literature > Korean Literature > Korean Fiction > 21st century

Author

Co-Author

-

Published Year

2013

Publisher

자음과모음

ISBN

9788957077214

Anthology

-

Main Characters

Kim Ayami, Yeomi, Wolfi

Subject/Theme

Boundary between reality and fiction, records about dreams, memories
Kim Ayami, who works at an audio theater that is about to close, talks about her dreams, nights, and memories while meeting with female German teacher Yeoni, who has cancer, the unemployed theater director, and Wolfi, who came to Korea to write a novel. However, Ayami finds out that these people she met appear over and over again and stay around her. Yet it is unclear whether her perception is a reality or a dream. Ayami builds dreams rather than recording and thinking about reality with vague boundaries.
Descriptions - 2 Languages
English(English)
Korean(한국어)
This is a novel by Bae Su-ah, published in 2013. It depicts a unique, cyclical world that is created within dreams that have been transformed into reality. The world captured by the author's unique senses lies at the boundary between reality and imagination, and this boundary suggests the readers to read the novel as a poem rather than a general narrative.
2013년에 출간된 배수아의 장편소설이다. 꿈이 현실로 전환되어 그 안에서 만들어진 독자적인 세계가 순환되는 모습을 그린 소설이다. 작가만의 고유한 감각으로 포착해낸 세계는 현실과 상상의 경계에 놓여 있으며 이 경계는 소설을 일반적인 서사가 아닌 시로 읽을 것을 제안한다.