Book Review
Japanese(日本語)
[Japanese] The Baton Has Been Passed: A Different Person by Kang Hwa Gil
by Hiroko Oyamada, on April 18, 2022
English(English)
Japanese(日本語)
Jina reports her boyfriend, who's also hersuperior at work, to the police for choking her. She rejects an out-of-courtsettlement, but all he faces after a trial is a trivial fine of about 300,000yen. He doesn't lose his job, and faces no jail time. Jina writes about thisinjustice online. While there come voices of sympathy and encouragement, theylast only an instant, and are soon replaced with comments mocking andslandering her. Ultimately, Jina winds up leaving her job.
We cannot fully understand others. When oursex, age, and position in society are different, mutual understanding becomeseven more difficult. Because of this we must rely on our imagination wheneverinteracting with others, whether they be family, friends, lovers, or those whojust happen to sit next to us. However, with the birth of the internet,unilateral communication where we ignore the feelings of those we're talking tohas become much easier. Occasionally, that sort of communication becomes a typeof violence; it can harm others and chase them into a corner.
Jobless, Jina closes herself up in her room andspends her days reading all the comments deriding her. She can't help herself.One day, she finds amongst all those comments one from someone who seems toknow her personally. Because of that comment, she returns to Anjin, where sheused to live, to face her past.
Jina's memory, just like anyone else's, isspotty. Events are reversed and mixed up. Things are rewritten to fit herexpectations. She searches, knowing there's something important there, and shemeets old acquaintances, talks, and tries to remember. Her best friend Dana; herchildhood friend Sujin who, for some reason, she grew distant from; herclassmate Yuri who died young in an accident. It becomes clear as all theirmemories are recounted that all the women in this novel are deeply injured,both physically and mentally, by unwanted sex. Unexpected pregnancies, sexuallytransmitted viruses, physical injuries; their bodies swell, fester, and hurt.
The suffering they face is all quite familiarto me, even though I live in Japan. They're all the sorts of problems you can'tplan for ahead of time, the sorts of misfortune you can only pray does notbefall you or anyone close to you. As I moved through the pages of this book, Ihad no space to enjoy my reading. I had no space to even hope that thecharacters would somehow be saved and all would end happily.
Misogyny is real. Whether you try to deny it orjust shrug it off and say women actually have more power these days, that is anundeniable fact. And while how much of any group believes we must put an end tothis discrimination varies from community to community, it is most often thesocietal discrimination that they are talking about. Unfair wages and hiringpractices, biased school entrance examinations.
This book, however, depicts not only societaldiscrimination, but something more primal: the pain of physical difference.Only certain bodies can become pregnant. There are sexually transmitteddiseases that leave men's bodies unharmed but do serious damage to women's. Andwhen someone tries to hold someone else down and force their desire on them, itis by far most often men who have larger bodies and thus greater physicalstrength. We know that. Of course we know that. Anyone who has lived for sometime as a woman knows that. We don't mention it, and we seem not to pay it anymind, because if we don't live as though those facts don't bother us, we won'tbe able to go on. Victims are blamed for not looking out for themselves, aretreated as villains trying to ruin men, and the legal and welfare systems can'tprovide sufficient support.
Jina, Dana, Sujin, and Yuri. The memories ofthese women come together, and it is thrilling to see the linking of the painand suffering hidden therein, the connections between the experiences each ofthem considered their own personal trauma. As I read, I imagined a closingscene where these women join forces and challenge that which robbed them oftheir dignity. But that is not what this author chose. While she does offerglimmers of hope, she does not free us with a cathartic ending. Countless Jinasand Danas and Sujins and Yuris continue to suffer, and their enemy is not oneperson, but an endless number of individuals, and, on top of that, the veryatmosphere of society that produces such people. We are living now. Can we—whosometimes even benefit from that same social atmosphere—can we tell such adramatic story where the women face down their oppressors?
So the author has passed the baton to thereader. It was not handed to me alone. Countless readers (women and men both),must take that baton. It is our turn to run.
Translated by Kalau Almony
Author,
(New Directions 2019)
 ジナは恋人に首を絞められる。命の危険を感じた彼女は警察に通報する。職場の上司でもある相手からの示談を拒んだ彼女が裁判の末に手にしたのはたった三十万円ほどの罰金、男は退職もせず刑罰も受けない。彼女はこのことをネットで告発する。同情や激励の声が上がったのも束の間、彼女への嘲笑と誹謗中傷がネットに溢れ、彼女の方が退職する羽目になる。
他者を完全に理解することはできない。性別や年代や立場が違えばなおさら難しい。だからこそ、本当は、私たちは誰かと接するとき常に相手のことを考え想像する必要がある。家族、友人、恋人、偶然隣に座った誰かのこと、しかしネットの登場によって、相手のことを一切考えない一方的なコミュニケーションが容易になった。それはときに暴力となり他者を傷つけ追いこんでいく。無職になったジナは引きこもり一日中ネットで自分を悪く言う言葉を読んで過ごしている。そうせずにいられないのだ。ある日、彼女はその中に自分の過去を個人的に知っている誰かのものらしい書き込みを見つける。その書き込みをきっかけに、彼女はかつて過ごしたアンジンという土地に帰り自分の過去と向き合うこととなる。
彼女の記憶は、私たち誰もの記憶がそうであるように、部分的に抜け落ち、前後し、混じり合い、都合よく上書きされている。それらの中から浮かび上がってくる大切なものを探るべく彼女は人に会い、話をし、思い出そうとする。親友のダナ、理由があって疎遠になっていた幼馴染スジン、事故で若くして亡くなった同級生ユリ……記憶が語られていく中で、本書に登場する彼女らが皆、望まないセックスによって心身ともに深く傷ついていることが明らかになっていく。予期せぬ妊娠、性感染症ウイルス、傷、彼女らの体は腫れ、膿み、痛む。ジナらの苦痛はどれも日本に住む私にとっても身近なもので、それは、もしいつか対峙することになってしまったらこうしようと解決策を練っておくような問題などではない、ただただ、自分や親しい誰かの身に降り掛かりませんようにと祈るしかない災厄のようなもの、本書をめくりながら、だから読む快楽を感じる余裕などなかった。本書に登場する人々が幸福に救われてほしいと願う余裕すらなかった。
 女性差別は存在する。否認しようがむしろ女尊男卑の世ですよと肩をすくめようが厳然とある。その差別を解消すべきという意見がどれくらい多数派かはコミュニティによって差があるが、なんにしてもそういう場合に語られるのは社会制度的差別の問題の場合が多い。賃金や雇用機会の格差、受験差別……しかし本書はそういった社会的ジェンダー差別だけではなくもっと原始的な、身体的な不均一がもたらす痛みをも描く。妊娠する可能性があるのは絶対に女性の体を持つ人間だけであること、ある種の性感染症が男性の体には影響を与えず女性の体にだけ深刻なダメージを与えること、相手を押さえつけ欲望を果たそうとするとき力や体格差によって圧倒的に男性が有利な場合が多いこと……私たちはそれを知っている、もちろん知っている、誰だって、ある程度生きてきた女性なら。それを口にしないのは、気にせず過ごしているように見えるのは、そうしないと生きていけないからだ。被害者は自衛が足りなかったと責められ、男を陥れようとした罪人のように扱われ、司法も福祉も十分に救ってはくれないから。
ジナ、ダナ、スジン、ユリ、彼女らの記憶が繋がっていき、それぞれ自分の中に秘めていた、自分だけのものだと思っていた苦悩や悲痛もまた繋がっていたとわかっていく様子は緊張感に満ちている。そうして繋がっていった女たちが力を分け合い彼女らの尊厳を損なったものに立ち向かい反撃する、読みながらそんなラストも頭をよぎった。しかし作者はそれを選ばない。希望を漂わせつつも、そんなカタルシスで私たちを解放してはくれない。無数のジナがダナがスジンがユリが苦しみ続けている、敵は誰か一人ではなくあの人もあの人もそして彼ら彼女らをそんなふうにした社会の空気も。いま私たちが生きている、もしかしたらその恩恵を受けてさえいるこの空気の中で、そんな劇的なドラマが描けるだろうか。
だから筆者は読者にバトンを示す。私一人につきつけられたものではない、無数の私たち彼女たち(もちろん彼たちも)がこれから、それを持って走るのだ。
Keyword : A Different Person,Kang Hwa Gil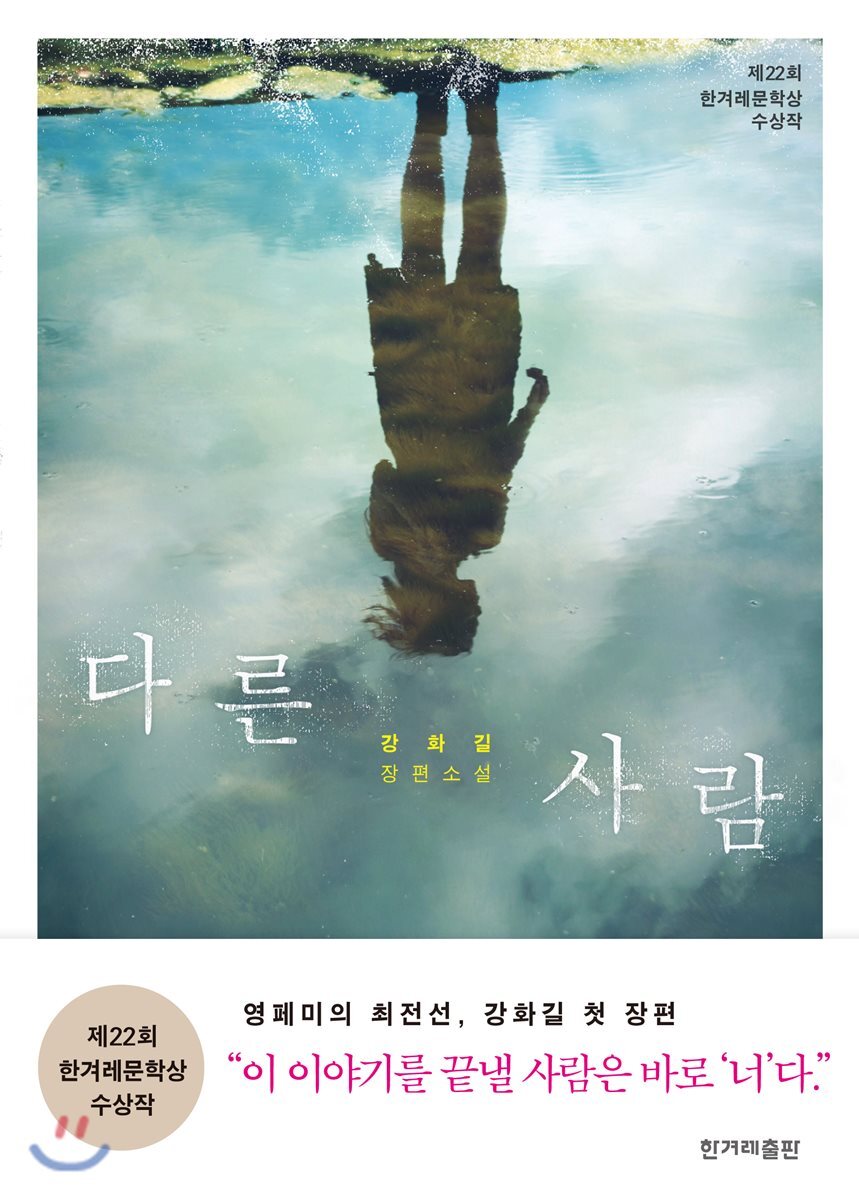 Author : Kang hwa gil
Co-Author :
Publisher : 한겨레출판
Published Year : 2017
Country : SOUTH KOREA
Original Language : Korean(한국어)
ISBN : 9791160400939