Printed/Published Work
Korean(한국어)
빛의 제국
About the Original Works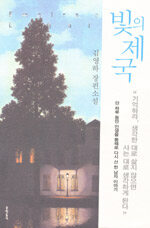 Book cover provided by :
Aladin
Original Title

빛의 제국

Title Romanization

Bichui jeguk

Title Sub

Empire of lights : 김영하 장편소설

English Title

Your Republic is Calling You

Classification

literature > Korean Literature > Korean Fiction > 21st century

Author

Co-Author

-

Published Year

2006

Publisher

문학동네

ISBN

895460191X

Anthology

-

Main Characters

Kim Gi-yeong

Subject/Theme

Inter-Korean relations, North Korean agents, ordinary life in South Korea
The narrator is a secret agent from North Korea, who was sent to South Korea. He disguises his identity in South Korea to carry out operations when necessary. Since he was sent to South Korea, he has gotten a job, gotten married, and been leading an ordinary life. Then one day, he receives a sudden order to return to North Korea, and he becomes confused. Faced with a choice to give up all of his life in South Korea and go to the North or stay, he makes a grave decision.
Descriptions - 2 Languages
English(English)
Korean(한국어)
This is a novel by Kim Young-ha, published in 2010. The novel raises a contemporary problem through the point in which an individual's life and the history of a community overlap. The entire novel focuses on the events of a single day in the protagonist's life, and this day, which is a condensed version of his life, also becomes the time for him to determine the present.
2010년에 출간된 김영하의 장편소설이다. 소설은 개인의 삶과 공동체의 역사가 겹쳐지는 지점을 통해 동시대의 문제를 제기하고 있다. 특히 소설 속에서 벌어진 일들은 주인공이 하룻동안 경험한 일인데, 압축적으로 제시된 주인공의 하루는 현재를 결정하는 시간으로 작용하기도 한다.