Printed/Published Work
Korean(한국어)
파도가 바다의 일이라면
About the Original Works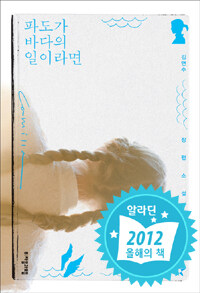 Book cover provided by :
Aladin
Original Title

파도가 바다의 일이라면

Title Romanization

Padoga badaui iriramyeon

Title Sub

김연수 장편소설

English Title

If the Waves Belong to the Sea

Classification

literature > Korean Literature > Korean Fiction > 21st century

Author

Co-Author

-

Published Year

2012

Publisher

자음과모음

ISBN

9788954428224

Anthology

-

Main Characters

Camilla Portman, Hasegawa Yuichi

Subject/Theme

Adoption; records and testimony; the truth
Camilla Portman is a Korean-American adoptee who was adopted in the United States when she was 6 months old. She becomes a novelist and signs a contract with a New York publisher, agreeing to write a work of nonfiction on the subject of finding her roots. She and her fiancé Yuichi Hasegawa travel to Jinnam, Korea to check her place of birth and find her birth parents, of whom all she has is a photograph and a letter. With those objects to guide her, she goes around asking questions, but people treat her coldly.
Descriptions - 2 Languages
Korean(한국어)
English(English)
2012년에 출간된 김연수의 장편소설이다. 2011년 여름부터 2012년 여름까지 계간<자음과 모음>에 <희재>라는 제목으로 연재했고, 내용을 수정하고 제목을 바꿔서 장편으로 출간한 것이다. 작품은 어릴 때 미국에 입양된 작가가 자신의 뿌리를 찾기 위해 고향에서 부모를 찾는 과정에서 마주치는 고통 그리고 타인의 기록과 증언으로 진실을 찾아가는 과정의 어려움을 보여준다.
This novel by Kim Yeonsu was published in 2012. It was originally serialized in Consonants and Vowels under the title Huijae from the summer of 2011 to that of 2012, and was revised and retitled for publication in book form. The novel reveals the pain and heartache faced by the main character, a Korean-American adoptee, during her search for her birth parents, and the difficulty of finding the truth using only the records and testimonies of others.