Printed/Published Work
Korean(한국어)
퀴즈쇼
About the Original Works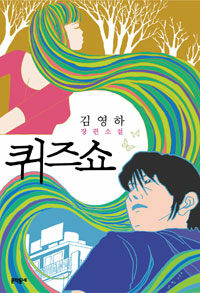 Book cover provided by :
Aladin
Original Title

퀴즈쇼

Title Romanization

Kwijeusyo

Title Sub

김영하 장편소설

English Title

Quiz Show

Classification

literature > Korean Literature > Korean Fiction > 21st century

Author

Co-Author

-

Published Year

2007

Publisher

문학동네

ISBN

9788954604178

Anthology

-

Main Characters

Yi Minsu, Seo Jiwon

Subject/Theme

Life of a young man in his twenties; poverty; unhappiness; sense of isolation; love
Minsu is saddled with the debt that his grandmother left behind when she passed away. He lives in a windowless gosiwon and tries to pay off the debt by working part-time at a convenience store. While participating in an online chat room known as Quiz Room, he encounters Seo Jiwon, the scriptwriter of a TV quiz show, and falls in love with her. They only ever meet on the Internet, but the relationship gives him comfort in real life.
Descriptions - 2 Languages
Korean(한국어)
English(English)
2007년에 출간된 김영하의 장편소설이다. 작품은 가난한 주인공이 생계를 유지하기 위해 밤낮으로 일을 하느라 현실에서는 고립되어 있고, 인터넷을 통해 만난 사람에게 위로를 받고 사랑을 하는 모습을 그렸다. 가난한 청년들의 고독과 불행, 사랑에 관한 이야기다.
This novel by Kim Young-ha was published in 2007. A story about loneliness, unhappiness, and love, it depicts a disaffected young man in his twenties who works day and night to earn a living. He is isolated from reality, yet finds comfort and love with a person he meets online.