Printed/Published Work
Korean(한국어)
올빼미의 없음
About the Original Works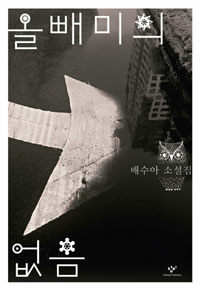 Book cover provided by :
Aladin
Original Title

올빼미의 없음

Title Romanization

Olppaemiui eopseum

Title Sub

배수아 소설집

English Title

North Station

Classification

literature > Korean Literature > Korean Fiction > 21st century

Author

Co-Author

-

Published Year

2010

Publisher

창비

ISBN

9788936437138

Anthology

Works included : -

Main Characters

-

Subject/Theme

Fantasy; dream; senses; memories
Descriptions - 2 Languages
Korean(한국어)
English(English)
2010년에 출간된 배수아의 소설집이다. <양의 첫눈>, <올빼미>, <복역>, <밤이 염세적이다> 등 총 8편의 단편이 수록되어 있다. 독특한 감수성과 언어로 한국 문단의 한 축을 담당하고 있는 작가는 이번 소설집에서 인간의 기억을 주요한 소재로 사용하여 인간의 내면을 다층적으로 드러내고 있다. 타인의 현재를 엿보며 과거에 만났던 사람들을 기억하는 주인공의 이야기, 현실과 환상을 넘나드는 기억에 관한 이야기, 염세적인 화자가 자신의 꿈과 글쓰기에 대해서 편지를 주고받는 이야기 등 현실을 바라보는 작가만의 초현실적인 감각이 두드러진 작품들로 구성되어 있다.
Published in 2010, this collection by Bae Suah introduces eight of her short stories including "First Snow, First Sight," "Owl," "North Station," and "Weary Night." With a characteristically unique sensibility and language, Bae has been recognized as one of the most important writers in contemporary Korean literature, and in this collection, she brings out layers of the inner workings of people. Her characters include a man who is reminded by things of the people from his past and present, and a nihilistic painter who exchanges letters about his dreams and writings. The stories weave reality and fantasy, blurring the boundary between the two.