Printed/Published Work
Korean(한국어)
너의 목소리가 들려
About the Original Works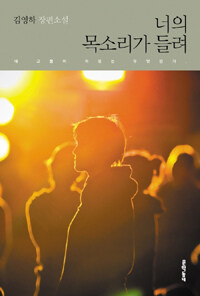 Book cover provided by :
Aladin
Original Title

너의 목소리가 들려

Title Romanization

Neoui moksoriga deullyeo

Title Sub

김영하 장편소설

English Title

I Hear Your Voice

Classification

literature > Korean Literature > Korean Fiction > 21st century

Author

Co-Author

-

Published Year

2012

Publisher

문학동네

ISBN

9788954617628

Anthology

-

The Series

문학동네 장편소설

Main Characters

Jae, Donggyu

Subject/Theme

Tragic life, grief of the abandoned
Orphans, Jae and Donggyu meet by chance, but they grow to depend on and support each other. Lonely at the thought that the world doesn't want them, they share their anger and sorrow about society. However, their relationship does not last.
Descriptions - 2 Languages
English(English)
Korean(한국어)
This is a novel by Kim Young-ha, published in 2012. Through the protagonists' grief and anger, the author shows that that is the common way of life.
2012년에 출간된 김영하의 장편소설이다. 주인공들이 경험한 비애와 분노를 통해 그것이 보통의 삶의 방식임을 드러낸다.