Printed/Published Work
Korean(한국어)
고발
About the Original Works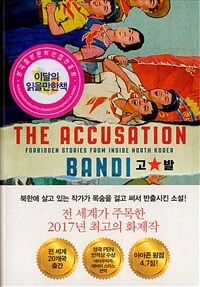 Book cover provided by :
Aladin
Original Title

고발

Title Romanization

Gobal

Title Sub

반디 소설

English Title

The Accusation

Classification

literature > Korean Literature > Korean Fiction > 21st century > Short Story

Author

Co-Author

-

Published Year

2017

Publisher

다산북스

ISBN

9791130611167

Anthology

-

Main Characters

-

Subject/Theme

Dissent literature about North Korea
Descriptions - 2 Languages
Korean(한국어)
English(English)
2014년 출간된 소설가 반디의 소설집이다. 북한체제를 비판·풍자한 북한 현역작가의 단편 소설 모음집이다. 북한의 작가 단체인 '조선작가동맹 중앙위원회' 소속인 저자 '반디'는 1980년대 말에서 1990년대, '고난의 행군'을 겪으며 배고픔과 체제 모순으로 죽음을 맞이하는 주민들을 보고 체제를 고발하는 작품을 썼다.
This novel by Bandi, the pseudonym of a dissident North Korean writer who still lives in the country, was published in 2014. Bandi is a member of the country's Korean Writers' Alliance, and he decided to write this novel to disclose the suffering of people in his country under an oppressive political system which disregards human rights, especially during what was known as the March of Suffering in the 1980s and 1990s.