Printed/Published Work
Korean(한국어)
고령화 가족
About the Original Works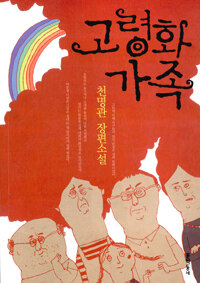 Book cover provided by :
Aladin
Original Title

고령화 가족

Title Romanization

Goryeonghwa gajok

Title Sub

천명관 장편소설

English Title

Modern Family

Classification

literature > Korean Literature > Korean Fiction > 21st century

Author

Co-Author

-

Published Year

2010

Publisher

-

ISBN

9788954610551

Anthology

-

Main Characters

Oh In-mo (narrator), Oh Han-mo, Oh Mi-yeon

Subject/Theme

Family, solidarity of the failed people, life in the margins
After a failed film production, Oh In-mo returns home for the first time in years. Home is where his mother and older brother Oh Han-mo, who has five previous convictions, live. A little while after In-mo joins them, his younger sister Mi-yeon moves in as well with her daughter, Min-gyeong. The three siblings always fight and create new problems. But when Min-gyeong runs away from home, unable to withstand her pathetic family, everyone in the family work together to look for her.
Descriptions - 2 Languages
English(English)
Korean(한국어)
This is a novel by Cheon Myeong-kwan, published in 2010. It depicts the lives of problematic family members to the extent that it is called a "messed-up, dysfunctional family novel." It provides a humorous portrayal of various characters accepting and protecting each other in the name of family, despite being a rather unusual family.
2010년에 출간된 천명관의 장편소설이다. 이 작품은 일명 '막장 가족 소설'이라 불릴 정도로 문제적인 가족 구성원들의 모습을 보여준다. 평범하지 않지만 가족이라는 이유로 서로를 받아들이고 지켜주는 모습을 유쾌하게 그린다.