Printed/Published Work
Korean(한국어)
차남들의 세계사
About the Original Works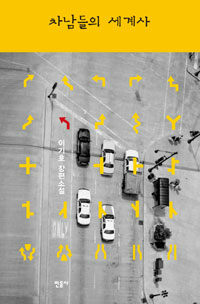 Book cover provided by :
Aladin
Original Title

차남들의 세계사

Title Romanization

Chanamdeurui segyesa

Title Sub

이기호 장편소설

English Title

A World History of Second Sons

Classification

literature > Korean Literature > Korean Fiction > 21st century

Author

Co-Author

-

Published Year

2014

Publisher

민음사

ISBN

9788937489341

Anthology

-

Main Characters

Na Bokman

Subject/Theme

Military dictatorship in 1980; Busan American Cultural Service Building arson; history of madness; warped personal life
For some reason unknown to him, Na Bokman is arrested in connection with the Busan American Cultural Service Building arson. He has nothing to do with the incident, but much to his despair, there is nobody who will believe or listen to him. Finding himself in a farcical situation of having to prove his innocence before the state, he grows increasingly disillusioned.
Descriptions - 2 Languages
Korean(한국어)
English(English)
2014년에 출간된 이기호의 장편소설이다. 같은 해 제47회 한국일보문학상수상작이다. 2009년 가을부터 2010년 겨울까지 계간지<세계의 문학>에 <수배의 힘>으로 연재했던 작품을 제목을 바꿔 출간한 것이다. 작품은 1980년대 군사정권 아래에서 뒤틀린 개인의 삶을 작가 특유의 발랄한 문체와 유머로 담아내었다.
A World History of Second Sons by Lee Ki-ho is a novel published in 2014. It won the Korea Times Literary Award that year. The novel had previously been serialized under the title The Power of Being Wanted in the quarterly World Literature from the fall of 2009 to the winter of 2010. With a lively prose style and sense of humor, the work captures how an individual's life becomes warped by the military regime of the 1980s.