Printed/Published Work
Korean(한국어)
안녕, 주정뱅이
About the Original Works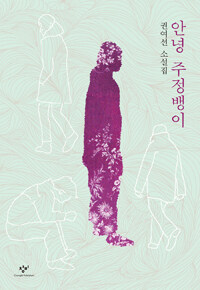 Book cover provided by :
Aladin
Original Title

안녕, 주정뱅이

Title Romanization

Annyeong, jujeongbaengi

Title Sub

권여선 소설집

English Title

Hello Alcoholics

Classification

literature > Korean Literature > Korean Fiction > 21st century > Short Story

Author

Co-Author

-

Published Year

2016

Publisher

창비

ISBN

9788936437381

Anthology

Works included : -

The Series

문학과지성 시인선 ; 445

Main Characters

-

Subject/Theme

Marginalized life; tragedies in life
Descriptions - 2 Languages
Korean(한국어)
English(English)
2016년에 출간된 권여선의 소설집이다. 2013년 여름부터 2015년 겨울까지 발표한 7편의 단편들을 모아서 소설집으로 출간했다. <봄밤>, <이모>, <카메라>, <실내화 한 켤레> 등은 궁지에 몰린 사람들이 그들의 비극을 대면하는 과정과 그럼에도불구하고 그들이 삶을 포기하지 않고 비극을 견뎌내는 모습을 담고 있다.
Published in 2016, this short story collection by Kwon Yeo-sun introduces seven of her stories which were released between the summer of 2014 and the winter of 2015. The collection includes "Spring Night," "Aunt," "Camera," and "One Slipper." The writer tells the stories of people who, despite being cornered or confronted by tragedy, do not give up on life and endure whatever befalls on them.
Translated Books1
Japanese(日本語)

Book

Available

春の宵