Printed/Published Work
Korean(한국어)
살인자의 기억법
About the Original Works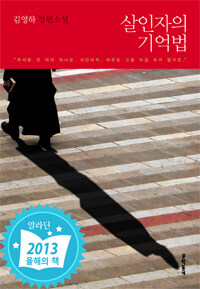 Book cover provided by :
Aladin
Original Title

살인자의 기억법

Title Romanization

Sarinjaui gieokbeop

Title Sub

김영하 장편소설

English Title

Diary of a Murderer

Classification

literature > Korean Literature > Korean Fiction > 21st century

Author

Co-Author

-

Published Year

2013

Publisher

문학동네

ISBN

9788954622035

Anthology

-

Main Characters

Kim Byeongsu, Eunhui, Taeju

Subject/Theme

Serial killer, Alzheimer's, terror and fear, human mind that determines the present
A former serial killer, Kim Byeongsu now has Alzheimer's and is living with the help of a nurse. One day, Byeongsu meets Taeju and notices that he has the eyes of a murderer. He warns his daughter Eunhui to be careful with Taeju, but they grow closer. Byeongsu, in fear at the thought that Taeju would harm Eunhui, decides to kill Taeju. However, Byeongsu's nurse is found dead and it turns out that Taeju is a police officer.
Descriptions - 2 Languages
English(English)
Korean(한국어)
This is a novel by Kim Young-ha, published in 2013. In 2017, it was adapted into a film of the same title, and in 2020, it topped the list of best mystery novels in Germany. The novel follows the protagonist, who was a serial killer, living in a world created by his imagination while suffering from dementia. The protagonist encounters what he fears in his imagination, and through the process, the author shows how human terror and fear influence reality.
2013년에 출간된 김영하의 장편소설이다. 2017년, 동명의 제목으로 영화로 만들어졌고, 2020년에는 독일 최고의 추리소설 1위에 오르기도 했다. 소설은 연쇄살인범이었던 주인공이 치매를 앓는 중에 상상으로 만들어낸 세계를 따라가는 방식으로 전개된다. 주인공은 상상 속에서 자신이 두려워하던 일을 맞닥트리게 되며 그 과정을 통해 작가는 인간의 공포와 두려움이 현실을 어떻게 좌우하는지 보여준다.