Printed/Published Work
Korean(한국어)
녹천에는 똥이 많다
About the Original Works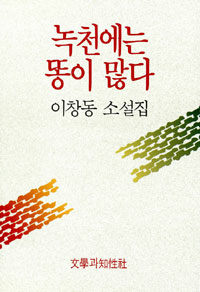 Book cover provided by :
Aladin
Original Title

녹천에는 똥이 많다

Title Romanization

Nokcheoneneun ttongi manta

Title Sub

이창동 소설집

English Title

Nokcheon

Classification

literature > Korean Literature > Korean Fiction > 20th century > Short Story

Author

Co-Author

-

Published Year

1992

Publisher

문학과지성사

ISBN

8932005796

Anthology

Works included : -

The Series

민음의 시; 142

Main Characters

Jun-sik, Min-u, Jun-sik's wife

Subject/Theme

Life of the petit bourgeois during industrialization
Jun-sik and Min-u are half-brothers. Min-u is a social activist who participated in the student demonstrations, while Jun-sik worked hard to become a teacher after graduating from the university night classes. Although he started with nothing of his own, Jun-sik earns enough to purchase a small apartment, and even marries an employee from his school's general affairs department. However, their marriage is impulsive, and there is no understanding or solidarity between Jun-sik and his wife. Min-u's appearance drivers the wedge between the couple even deeper. From Min-u, Jun-sik's wife feels something that Jun-sik is lacking and begins to despise Jun-sik blatantly. As Jun-sik watches his wife grow fond of Min-u while despising him, Jun-sik's victim mentality grows.
Descriptions - 2 Languages
English(English)
Korean(한국어)
This is the third short story collection by Lee Chang-dong, published in 1992. It mainly features the lives of the urban poor and petit bourgeoisie in cities. The protagonists of the stories in this collection make efforts to overcome their realities and become awakened.
1992년 출간된 이창동의 세 번째 소설집이다. 주로 도시에서 살아가는 도시 빈민과 소시민들의 삶을 형상화하고 있다. 그러나 현실을 극복하고 자신을 각성시키고자 하는 주인공들의 노력을 볼 수 있다는 평가를 받는다.
Translated Books1
French(Français)

Book

Available

Nokcheon