Printed/Published Work
Korean(한국어)
너무 한낮의 연애
About the Original Works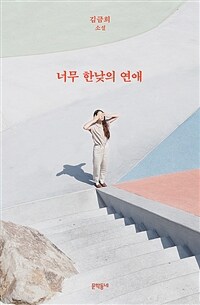 Book cover provided by :
Aladin
Original Title

너무 한낮의 연애

Title Romanization

Neomu hannajui yeonae

Title Sub

김금희 소설

English Title

Too Bright Outside for Love

Classification

literature > Korean Literature > Korean Fiction > 21st century

Author

Co-Author

-

Published Year

2016

Publisher

MUNHAKDONGNE Publishing group

ISBN

9788954640756

Anthology

-

The Series

문학동네 소설집

Main Characters

-

Subject/Theme

Old memories, painful reality, opportunities in life
The short stories in this collection, including "Too Bright Outside for Love," "Jo Jung-gyun's World," and "Waiting for the Dog" tell the stories of people who withstand the present through indifferent and heartbreaking words amidst wounded memories, difficult reality, and pain and suffering.
Descriptions - 2 Languages
English(English)
Korean(한국어)
This is a short story collection by Kim Keum Hee, published in 2016. It is made up of nine short stories that record reality with quiet passion.
2016년에 출간된 김금희의 소설집이다. 조용한 열정으로 현실을 기록한 9편의 단편이 수록되어 있다.