Printed/Published Work
Korean(한국어)
나는 나를 파괴할 권리가 있다
About the Original Works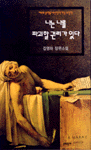 Book cover provided by :
Aladin
Original Title

나는 나를 파괴할 권리가 있다

Title Romanization

Naneun nareul pagoehal gwolliga itda

Title Sub

김영하 장편소설

English Title

I have the right to destroy myself

Classification

literature > Korean Literature > Korean Fiction > 20th century

Author

-

Co-Author

-

Published Year

1996

Publisher

-

ISBN

8982810021

Anthology

-

The Series

Changbi New Books 3

Main Characters

Narrator, Se-yeon, C, K, Mimi

Subject/Theme

Sex, death, vain life
The narrator is a suicide designer, who seeks out people wishing to commit suicide, helps them commit suicide, and receives their stories in return. One day, Se-yeon, C, and K, who are entangled in a love triangle, come to the narrator as clients. The three love each other but have been swept away by shallow and insincere lives, and finally reach out to the narrator for help.
Descriptions - 2 Languages
English(English)
Korean(한국어)
This is a novel by Kim Young-ha, published in 1996. It uses fantasy techniques to portray death in a sophisticated and detailed manner. It shows that death is not something dark and gloomy, but something that is close to people's everyday life.
1996년에 발표된 김영하의 장편소설이다. 이 작품은 환상의 기법을 사용하여 죽음을 정교하고도 구체적으로 묘사한다. 죽음은 어둡고 음습한 것이 아니라 일상에 가까이 있는 것임을 보여준다.