Printed/Published Work
Korean(한국어)
7년의 밤
About the Original Works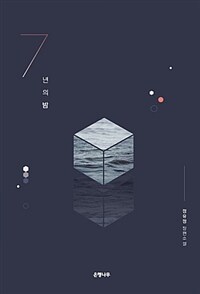 Book cover provided by :
Aladin
Original Title

7년의 밤

Title Romanization

7nyeonui bam

Title Sub

정유정 장편소설

English Title

Seven Years of Darkness

Classification

literature > Korean Literature > Korean Fiction > 21st century

Author

-

Co-Author

-

Published Year

2011

Publisher

-

ISBN

9788956604992

Anthology

-

Main Characters

Choi Hyonsu, Choi Sowon, Oh Yongje, Oh Seryong, Kang Eunju, Mun Hayong, Ahn Seunghwan

Subject/Theme

Psychopath, unfortunate coincidence, free will, evil
The story revolves around Choi Sowon, the son of a man (Choi Hyonsu) who was arrested and sentenced to death for opening the floodgates of a dam and submerging a village. After the incident, Choi Sowon is branded as the son of a mass murderer and has kept out of the public eye. Seven years later, on the day of his father's execution the truth of the day when the "disaster of Seryong" occurred begins to come to light.
Descriptions - 1 Languages
7년의 밤(정유정)

 

1. 도입부

《7년의 밤》(2011)은 정유정1)이 쓴 한국의 장편소설이다. 《7년의 밤》은 등대마을에서 벌어진 '세령호 사건'의 진실을 추리기법을 사용하여 밝히는 과정을 통해 인간의 어두운 내면을 드러낸 작품이다.

 

2. 작품 소개

제목, 주제

최현수는 2004년 댐의 수문을 열어 세령 마을을 수몰시켰고, 2011년 사형 집행이 예정되어 있다. 최현수의 아들 최서원은 '살인마의 아들'로 낙인 찍혀 학교생활이 불가능했다. 수차례의 전학 끝에 지도에도 표기되지 않은 '등대마을'에서 안승환과 함께 생활한다. 어느 날, 한 무리의 청년들이 다이빙을 하기 위해 등대마을을 찾아온다. 그들은 술에 취한 채 야간 드리프트를 하다가, 사고를 당한다. 최서원과 안승환은 사고자들을 구조하려고 했지만, 전원 구조에 실패한다. 이 사건으로 언론의 주목을 받은 서원은 '살인마의 아들'이라는 사실이 등대마을에 알려진다. 서원은 마을을 떠날 준비를 하고 승환을 찾지만, 승환은 '세령호 사건'에 대한 자료를 서원에게 택배로 보낸 후, 사라졌다. 승환이 기록한 사건 자료다.

최현수는 장래가 유망한 야구선수였지만 교통사고 후유증으로 은퇴한 후 경비업체의 직원으로 일하고 있었다. 그가 맡은 일은 세령마을에 있는 세령수목원의 경비팀장이었다. 현수는 가족들과 3년간 살 집을 확인하기 위해 세령수목원으로 가던 중, 한 소녀를 차로 치게 된다. 무면허에 음주상태였던 그는 숨이 완전히 끊어지지 않은 소녀를 목 졸라 살해한 후 세령호에 시체를 유기한다. 죽은 소녀의 아버지 오영제는 세령수목원의 주인인 동시에 치과 병원의 원장이다. 그는 사회에서는 평판이 좋지만 가족들에게는 자신의 규칙을 강요하고, 아내(문하영)와 딸(오세령)을 '교정'이라는 명목으로 상습적인 폭행을 일삼는다. 최현수가 사고를 낸 날도 오영제는 딸 오세령을 '교정'하고 있었으며, 그의 폭행을 피해 달아나던 세령은 최현수의 차에 치여 사망한다. 최현수는 세령수목원에서 경비팀장 업무를 시작했지만, 살인에 대한 죄책감 속에서 공포를 느낀다. 최현수는 경찰의 수사망과 수목원장인 오영제의 압박으로 육체적 정신적 고통에 시달린다. 한편 오영제는 세령의 시신이 세령호에서 발견된 후, 딸에 대한 뒤틀린 사랑과 비정상적인 집착에 시달린다. 그는 딸을 죽인 범인으로 최현수를 특정하고 그를 파멸시키기 위한 치밀한 계획을 세운다. 마침내 오영제는 최현수의 아내(강은주)를 살해하고 아들 서원을 납치해 세령호의 둔덕인 한솔등에 묶은 뒤, 수문을 닫는다. 이어서 오영제는 최현수를 데리고 와서, 수문 통제실 모니터를 통해 수위가 높아져가는 세령호와 한솔등에 묶여 있는 서원을 보여준다. 최현수는 격투 끝에 오영제를 제압하고 댐의 수문을 연다. 그리고 댐 아래에 있던 세령마을은 수몰된다.

안승환의 사건 기록을 읽은 서원은 오영제의 복수가 아직 끝나지 않았음을 깨닫는다. 사건이 발생한 날 죽은 줄 알았던 오영제가 아직 살아있었을 뿐 아니라 그동안 서원의 행적을 쫓고, 주변에 그날의 사건을 폭로해왔던 것이 오영제였음을 알게 된다. 그리고 최현수가 사형집행을 당하기 전날인 오늘, 자신도 오영제에 의해 살해당할 것임을 직감한다. 서원은 모든 준비를 마친 채 오영제를 기다리고, 마침내 그를 만나게 된다.

 

작가 정유정은 한순간의 실수로 파멸하는 평범한 인물 최현수의 이야기를 통해, '사실'과 '진실' 사이에 틈이 있다는 것에 주목하고, 그 틈을 파헤치기 위해 노력한다.2) "인간은 얼마나 불안정한 존재인가 하는 의문을 품고" 시작한 ≪7년의 밤≫은 출간한지 3주도 되지 않아 주요 서점 소설 부문에서 베스트셀러에 올랐다.3)

 

비평적 반응

장편 ≪7년의 밤≫은 추리 기법을 통해 인물들을 둘러 싼 사건의 전모와 진실을 파헤치고 있다. 빠른 전개와 밀도 있는 심리묘사 등 대중과 평단의 호평을 받았다.

 

3) 각색

영화<7년의 밤(Seven Years of Night)>, 추창민 연출, 장동건/류승룡 주연, 20184)

 

4) 서지 사항

정유정, 《7년의 밤》, 은행나무, 2011

 

5) 수상 내역

2011년 올해의 책 선정도서

 

6) 참고 문헌

1) 정유정(1966~)은 한국의 소설가다. 전라남도 함평군에서 태어났다. 간호대학을 졸업하고 간호사로 일했다. 장편 <내 인생의 스프링 캠프>로 2007년 제1회 세계청소년 문학상, <내 심장을 쏴라>로 2009년 제5회 세계문학상을 받았다. 이후 작가로 활동하기 시작했다. 『7년의 밤』(은행나무, 2011)을 시작으로, 『28』(은행나무, 2013), 『종의 기원』(은행나무, 2016) 등 이른바 '악의 3부작'이라 불리는 작품들을 발표했다.

 

2) 정유정, <작가의 말-사실과 진실 사이에는 무엇이 있을까>, 《7년의 밤》, 은행나무, 2011, 521쪽

3) 정철훈, <현장취재로 메운 원고지 2000장의 힘…'7년의 밤'>, 《국민일보》, 2011.3.18 17:28, http://news.kmib.co.kr/article/view.asp?arcid=0004759278

 

4) <정유정- 추창민, "7년의 밤, 운명의 대물림과 맞선 분투>, ≪한국일보≫, 2018.4.4

https://www.hankookilbo.com/News/Read/201804040498460108