Printed/Published Work
Korean(한국어)
28
About the Original Works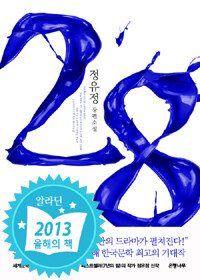 Book cover provided by :
Aladin
Original Title

28

Title Romanization

28

English Title

-

Classification

literature > Korean Literature > Korean Fiction > 21st century

Author

Co-Author

-

Published Year

2013

Publisher

EunHaengNaMu Publishing

ISBN

9788956607030

Anthology

-

Main Characters

A middle-aged man, people of Hwayang, dog

Subject/Theme

-
An unidentified infectious disease breaks out in Hwayang, a city located in the vicinity of Seoul. The first case is a middle-aged man in a dog breeding business. After being bitten by a diseased dog, he experiences abnormal symptoms in his eyes and lungs. The epidemic spreads rapidly, and people who begin to realize the seriousness of the situation struggle to solve the problem.
Descriptions - 2 Languages
English(English)
Korean(한국어)
The story of survival and salvation that takes place over the course of 28 days in the city of Hwayang is told from the alternating perspectives of humans and a dog to increase tension. In particular, the author paints a realistic picture of the anger and fear of humans responding to disasters using short sentences and exhaustive descriptions.
'화양'이라는 도시에서 28일간 벌어지는 생존과 구원의 이야기를 인간과 개의 시점을 번갈아 사용하여 긴장감을 높인다. 특히 작가 특유의 단문(短文)과 핍진한 묘사를 통해 재난에 대응하는 인간의 분노와 공포를 실감나게 그려내었다.