Printed/Published Work
Korean(한국어)
우리가 빛의 속도로 갈 수 없다면
About the Original Works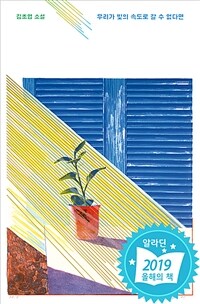 Book cover provided by :
Aladin
Original Title

우리가 빛의 속도로 갈 수 없다면

Title Romanization

English Title

If We Can't Go at the Speed of Light

Classification

literature > Korean Literature > Korean Fiction > 21st century

Author

Co-Author

-

Published Year

2019

Publisher

-

ISBN

9791190090018

Anthology

-

Main Characters

-

Subject/Theme

-
Descriptions - 2 Languages
Korean(한국어)
English(English)
2019년에 출간된 김초엽의 단편소설집이다. 표제작인 <우리가 빛의 속도로 갈 수 없다면>을 포함하여 7편의 단편소설이 수록되어 있다. 한국의 대표적인 SF소설 작가인 김초엽은 상상의 세계를 다루면서도 어디엔가 있을 것 같은 세계를 익숙하게 그려낸다. 작품은 정상과 비정상, 성공과 실패, 주류와 비주류의 경계를 끊임없이 질문하며 이에 대한 답을 찾기 위해 분투한다.
This collection of short stories by Kim Cho-Yup was published in 2019. It contains seven short stories, including the title story "If We Can't Go at the Speed of Light." A leading Korean science fiction writer, Kim Cho-Yup expertly draws imaginary worlds that also seem familiar and entirely plausible. His short stories question the boundaries between success and failure, the normal and the abnormal, and the mainstream and the unorthodox.