Printed/Published Work
Korean(한국어)
옆집 여자
About the Original Works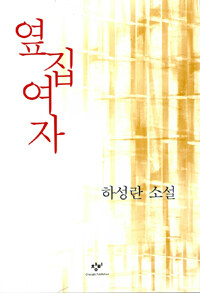 Book cover provided by :
Aladin
Original Title

옆집 여자

Title Romanization

Yeopjim yeoja

Title Sub

하성란 소설

English Title

The Woman Next Door

Classification

literature > Korean Literature > Korean Fiction > 20th century > Short Story

Author

Co-Author

-

Published Year

2000

Publisher

창비

ISBN

9788936436568

Anthology

-

The Series

문학과지성 시인선; 275

Main Characters

-

Subject/Theme

Alienated people; being dispossessed; the desire for escape
Descriptions - 2 Languages
Korean(한국어)
English(English)
1999년에 출간된 하성란의 소설집이다. 표제작인<옆집 여자>를 비롯하여 <<악몽>, <곰팡이 꽃>, <양파>, <올콩>등 모두 10편의 단편이 수록되어 있다. 작가는 고립된 개인들의 삶에서 쓸쓸함과 비참한 단면들을 포착하고 그것들을 따뜻한 시각으로 그려내고 있다. 특히 전업주부, 세일즈 맨, 매장의 감시요원, 주방장 등을 주인공으로 세워 그들이 현실에서 경험하는 소외와 상실, 박탈감을 가감없이 기록하고 그들의 탈주욕망을 다양한 이야기로 만들었다.
Published in 1999, this short story collection by Ha Seong-nan introduces 10 of her stories, including "Nightmare," The Mold Flower," "Beans", and the title story "The Woman Next Door." The characters in her stories are a housewife, a salesperson, a security guard at a mall, and a cook who feels alienated. The writer presents an unflinching, realistic portrayal of their misery and isolation, their sense of loss, and their desire to escape from reality.