Printed/Published Work
Korean(한국어)
사과는 잘해요
About the Original Works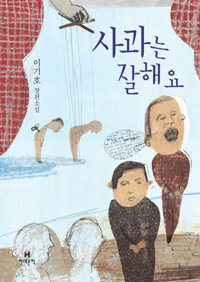 Book cover provided by :
Aladin
Original Title

사과는 잘해요

Title Romanization

Sagwaneun Jalhaeyo

Title Sub

이기호 장편소설

English Title

At Least We Can Apologize

Classification

literature > Korean Literature > Korean Fiction > 21st century

Author

Co-Author

-

Published Year

2009

Publisher

현대문학

ISBN

9788972754503

Anthology

-

Main Characters

Si-bong, Jin-man, Ji-yeon

Subject/Theme

Guilt, hidden sin, adapting to society, people incarcerated in institutions
Si-bong and Jin-man become friends when they are beaten by caretakers at a mental institution. After leaving the facility, the two try to find a job, but it is not easy. Remembering that people are uncomfortable with making an apology after making a mistake, and the fact that the best thing they did at the facility was apologizing, they set up an "apology agency." As their business of apologizing for people's hidden guilt and sins takes off, caretakers from the facility come and criticize Si-bong and Jin-man, telling them that their existence is a sin. That helps the two of them to realize the desires they have been ignoring, and they prepare to put it into practice.
Descriptions - 2 Languages
English(English)
Korean(한국어)
This is a novel by Lee Kiho, published in 2009. It was first serialized on a web portal, and the stories were revised and edited to clearly highlight the subject matter when they were bound together in a book. The author has published works that take a fresh look at familiar problems with a unique style and form, and the novel At Least We Can Apologize is one of those works. It examines people's sense of guilt through the protagonists who "apologize" on behalf of others.
2009년에 출간된 이기호의 장편소설이다. 포털에 연재했던 작품으로, 단행본으로 출간하면서 많은 부분을 수정하여 주제의식을 선명하게 부각시켰다. 작가는 그동안 독특한 화법과 형식으로 익숙한 문제들을 새롭게 바라보는 작품들을 발표해왔는데, 장편<사과는 잘해요>도 그러한 작품이다. 사람들의 사과를 대신해주는 '사과 대행'업무를 맡은 주인공들을 통해 사람들의 죄의식에 대해서 살펴보고 있다.