Printed/Published Work
Korean(한국어)
누구에게나 친절한 교회오빠 강민호
About the Original Works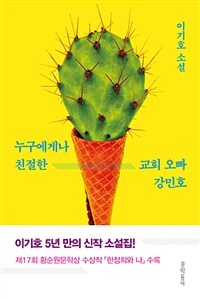 Book cover provided by :
Aladin
Original Title

누구에게나 친절한 교회오빠 강민호

Title Romanization

Nuguegena chinjeolhan gyohoeoppa gangminho

Title Sub

이기호 소설

English Title

Kang Min-ho, the Friendly Church-goer

Classification

literature > Korean Literature > Korean Fiction > 21st century > Short Story

Author

Co-Author

-

Published Year

2018

Publisher

MUNHAKDONGNE Publishing group

ISBN

9788954651127

Anthology

-

The Series

문학동네 소설집

Main Characters

-

Subject/Theme

Life of the weak, shame, people whose meaning of life were taken from them
"Choe Mijin-eun eodiro (Where Is Choi Mi-jin)," "Nareul hyeomohage doel Pak Chang-su-ege (To Park Chang-su Who Will Come to Hate Me)," "Oraedoen Kim Suk-hui (Old Kim Suk-hui)," and other stories in this collection feature people who are rather embarrassed as they suffer in harsh reality. In these stories, the author sheds light on the meaning of the lives that the characters were deprived of.
Descriptions - 2 Languages
English(English)
Korean(한국어)
This is a short story collection by Lee Kiho, published in 2018. The seven short stories in this collection feature characters whose names appear in the title. Through the lives of these characters, who are victims but also feel ashamed of their victimhood, the author poses questions about the life of the weak.
2018년에 출간된 이기호의 소설집이다. 표제작을 비롯해 <최미진은 어디로>, <나를 혐오하게될 박창수에게>, <오래전 김숙희는> 등 모두 7편이 수록되어 있다. 작품들은 고유한 이름을 가진 주인공들이 등장하는데, 이들이 피해자이면서 오히려 부끄러움을 느끼면서 살아가는 모습을 통해 약자의 삶에 대해 질문을 던진다.