Printed/Published Work
Korean(한국어)
권순찬과 착한 사람들
About the Original Works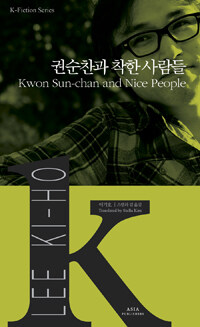 Book cover provided by :
Aladin
Original Title

권순찬과 착한 사람들

Title Romanization

Kwŏnsunch'an'gwa ch'ak'an saramdŭl

English Title

Kwon Sun-chan and Nice People

Classification

literature > Korean Literature > Korean Fiction > 21st century

Author

Co-Author

-

Published Year

2015

Publisher

-

ISBN

9791156621270

Anthology

-

The Series

K-Fiction 7

Main Characters

Narrator, Kwon Sun-chan, Kim Seok-man

Subject/Theme

Good intentions, conscience, wounded people
Kwon Sun-chan protests in front of a loan shark's apartment in order to retrieve the money that the loan shark took from him unfairly. The apartment residents start to feel uncomfortable with Kwon Sun-chan, and the first-person narrator tries to convince him to stop protesting, saying that he will help. Kwon Sun-chan refuses people's assistance.
Descriptions - 2 Languages
English(English)
Korean(한국어)
This is a short story included in Lee Kiho's short story collection titled, Kang Min-ho, the Friendly Church-goer, published in 2018. This short story questions what is "goodness" to those who are in poverty and have been wounded.
2018년에 출간된 이기호의 소설집<누구에게나 친절한 교회오빠 강민호>에 수록된 단편소설이다. 가난하고 상처받은 사람들에게 '착한 것'이란 무엇인지 질문을 던지는 작품이다.