Printed/Published Work
Korean(한국어)
곰팡이 꽃
About the Original Works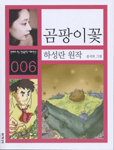 Book cover provided by :
Aladin
Original Title

곰팡이 꽃

Title Romanization

Gompangi kkot

English Title

Flowers of Mold & Other Stories

Classification

literature > Korean Literature > Children and Adolescents

Author

Co-Author

-

Published Year

2004

Publisher

-

ISBN

9788990365767

Anthology

-

Main Characters

A man in his mid-40s, residents of an apartment complex

Subject/Theme

City, anonymous communication, disjointed life
As he digs through garbage bags in an apartment complex to save money spent on the volume-based garbage system, a man finds out various secrets that people have discarded and gradually becomes interested. Under the delusion of communicating with people he does not know through their trash, the man keeps on digging through the garbage and become absorbed in their stories.
Descriptions - 2 Languages
English(English)
Korean(한국어)
A short story by Ha Seong-nan, which won the 30th Dongin Literary Award in 1999, was adapted into a graphic novel and published in 2003. The author's unique and extremely detailed descriptions provide a glimpse into the lives of city dwellers who remain anonymous.
1999년 제30회 동인문학상을 수상한 하성란의 단편소설을 만화로 재구성하여 2003년에 출간했다. 익명으로 유지되는 도시인들의 삶을 작가 특유의 마이크로한 묘사로 그려내었다.