About the E-Books
View online (E-PUB)
Author

Co-Author

-

Translator

Deborah Smith

Publisher

Crown/Archetype

Published Year

2019

Country

UNITED STATES

Classification

literature > Korean Literature > Korean Fiction > 21st century

Original Title

흰

Romanization of Original

Huin

Original Language

Korean(한국어)

ISBN

9780374717988

Page

-

Series

OverDrive Read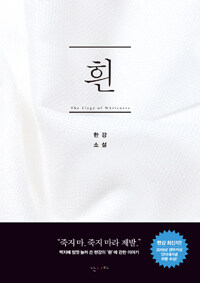 Author : Han Kang
Published Year : 2016
English Title : The White Book
More About the Original Work
Descriptions - 1 Languages
Shortlisted for the 2018 Man Booker International Prize
From Booker Prize-winner and literary phenomenon Han Kang, a lyrical and disquieting exploration of personal grief, written through the prism of the color white


While on a writer's residency, a nameless narrator wanders the twin white worlds of the blank page and snowy Warsaw. THE WHITE BOOK becomes a meditation on the color white, as well as a fictional journey inspired by an older sister who died in her mother's arms, a few hours old. The narrator grapples with the tragedy that has haunted her family, an event she colors in stark white—breast milk, swaddling bands, the baby's rice cake-colored skin—and, from here, visits all that glows in her memory: from a white dog to sugar cubes.
As the writer reckons with the enormity of her sister's death, Han Kang's trademark frank and chilling prose is softened by retrospection, introspection, and a deep sense of resilience and love. THE WHITE BOOK—ultimately a letter from Kang to her sister—offers powerful philosophy and personal psychology on the tenacity and fragility of the human spirit, and our attempts to graft new life from the ashes of destruction.





From the book

1

I

In the spring, when I decided to write about white things, the first thing I did was make a list.

Swaddling bands

Newborn gown

Salt

Snow

Ice

Moon

Rice

Waves

Yulan

White bird

"Laughing whitely"

Blank paper

White dog

White hair

Shroud

With each item I wrote down, a ripple of agitation ran through me. I felt that yes, I needed to write this book and that the process of writing it would be transformative, would itself transform into something like white ointment applied to a swelling, like gauze laid over a wound. Something I needed.

But then, a few days later, running my eyes over that list again, I wondered what meaning might lie in this task, in peering into the heart of these words.

If I sift those words through myself, sentences will shiver out, like the strange, sad shriek the bow draws from a metal string. Could I let myself hide between these sentences, veiled with white gauze?

This was difficult to answer, so I left the list as it was and put off anything more. I came abroad in August, to this country I'd never visited before, got a short-term lease on an apartment in its capital, and learned to draw out my days in these strange environs. One night almost two months later, when the season's chill was just beginning to bite, a migraine set in, viciously familiar. I washed down some pills with warm water and realized (quite calmly) that hiding would be impossible.

Now and then, the passage of time seems acutely apparent. Physical pain always sharpens the awareness. The migraines that began when I was twelve or thirteen swoop down without warning, bringing with them agonizing stomach cramps that stop daily life in its tracks. Even the smallest task is left suspended as I concentrate on simply enduring the pain, sensing time's discrete drops as razor-sharp gemstones, grazing my fingertips. One deep breath drawn in and this new moment of life takes shape as distinctly as a bead of blood. Even once I have stepped back into the flow, one day melding seamlessly into another, that sensation remains ever there in that spot, waiting, breath held.

Each moment is a leap forward from the brink of an invisible cliff, where time's keen edges are constantly renewed. We lift our foot from the solid ground of all our life lived thus far and take that perilous step out into the empty air. Not because we can claim any particular courage, but because there is no other way. Now, in this moment, I feel that vertiginous thrill course through me. As I step recklessly into time I have not yet lived, into this book I have not yet written.


Door

This was something that happened a long time ago.

Before signing the contract for the lease, I went to look at the apartment again.

Its metal door had once been white, but that brightness had faded over time. It was a mess when I saw it, paint flaking off in patches to reveal the rust beneath. And if that had been all, I would have remembered it as nothing more than a scruffy old door. But there was also the way its number, 301, had been inscribed.

Someone—perhaps another in a long line of temporary occupants—had used some sharp implement, maybe a drill bit, to scratch the number into the door's surface. I could make out each individual stroke: 3, itself three hand spans high; 0, smaller, yet gone over several times, a fierce scrawl that attracted attention. Finally, 1, a long, deep-gouged line, taut with the effort of its making. Along this collection of straight and curved wounds rust had spread, a vestige of violence, like long-dried bloodstains, hardened,...