Printed/Published Work
Korean(한국어)
다른 모든 눈송이와 아주 비슷하게 생긴 단 하나의 눈송이
About the Original Works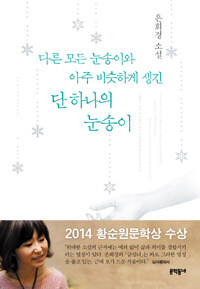 Book cover provided by :
Aladin
Original Title

다른 모든 눈송이와 아주 비슷하게 생긴 단 하나의 눈송이

Title Romanization

Dareun modeun nunsongiwa aju biseutage saenggin dan hanaui nunsongi

English Title

The One and Only Snowflake That Looked Like All the Others

Classification

literature > Korean Literature > Korean Fiction > 21st century

Author

Co-Author

-

Published Year

2014

Publisher

문학동네

ISBN

9788954624053

Anthology

-

The Series

Munhakdongne Stories

Main Characters

-

Subject/Theme

-
Descriptions - 2 Languages
Korean(한국어)
English(English)
2014년에 출간된 은희경의 다섯 번째 단편소설집이다. 표제작인 <아주 비슷하게 생긴 단 하나의 눈송이>를 포함하여 6편의 단편소설이 수록되어 있다. 이 작품은 한 인간의 긴 인생사를 파노라마처럼 펼쳐보인다. 각각의 이야기들은 고유한 독립성을 갖고 있으면서도 결국 하나의 이야기로 수렴된다.
Published in 2014, this is Eun Heekyung's fifth collection of short stories. It contains six short stories, including the title story, which provides a panoramic view of the life history of an individual. Although each story is a standalone work, the stories eventually converge into one.