Printed/Published Work
Korean(한국어)
오빠가 돌아왔다
About the Original Works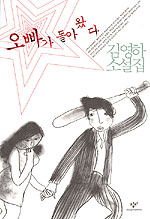 Book cover provided by :
Aladin
Original Title

오빠가 돌아왔다

Title Romanization

Oppaga Dorawatda

Title Sub

김영하 소설집

English Title

Brother Has Returned

Classification

literature > Korean Literature > Korean Fiction > 21st century

Author

Co-Author

-

Published Year

2004

Publisher

창비

ISBN

8936436767

Anthology

Works included : -

The Series

Today's Young Writers Series 3

Main Characters

-

Subject/Theme

The life of minorities; miserable truth; imagination beyond boundaries
Descriptions - 2 Languages
Korean(한국어)
English(English)
2004년 출간된 김영하의 소설집이다. 이 소설집으로 작가는 이산문학상, 동인문학상, 황순원문학상을 잇따라 받았다. 표제작을 비롯하여 <그림자를 판 사나이>, <마지막 손님>, <너를 사랑하고도>등 모두 8편의 단편이 수록되어 있다. 작가 특유의 담담한 문체와 예측이 어려운 서사 전개가 결합하여 독자들과 평단의 높은 평가를 받은 작가의 대표적인 소설집이다. 작가는 현실세계의 주류와 비주류의 경계를 무너뜨리는 상상력을 통해 병적인 현실과 누락된 진실을 서늘한 감각으로 제시한다.
Kim Young-ha received the Yi Sang Literary Award, the Dongin Literary Award, and the Hwang Sun-won Literary Award for the short stories in this collection published in 2004. The collection introduces eight of his stories including "The Man Who Sold His Shadow," "The Last Guest," and "Although I Love You." Kim has received praise from critics and readers alike for his stories, which are unpredictable narratives in language that is impassive and detached. Conjured up from an imagination that destroys the boundary between fantasy and reality, and between the mainstream and the unorthodox, Kim's stories unveil abnormalities in reality and hidden truths.